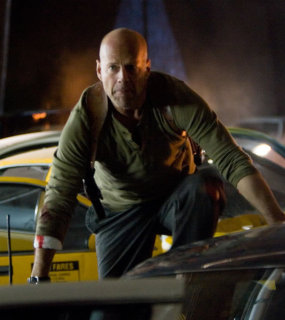 Jakarta
- Sebuah insiden kebakaran terjadi di lokasi syuting 'Die Hard 5' di Hungaria. Hal tersebut membuat jadwal pengambilan gambar menjadi tertunda. Untungnya tak ada korban dalam kebakaran tersebut.
Menurut laporan E!Online, Senin (9/7/2012), kebakaran terjadi setelah adegan aksi yang salah memicu besarnya api. Sebuah helikopter terbang di dekat adegan di mana sebuah gedung terbakar, namun angin yang ditimbulkan baling-baling helikopter tersebut justu membuat apinya bertambah besar.
Untungnya, tidak ada yang terluka dalam insiden tersebut. Bruce Willis dan Patrick Stewart yang menjadi bintang utama di 'A Good Day to Die Hard' sedang tak ada di lokasi syuting.
Dalam film yang disutradarai John Moore itu, diceritakan anak McClane mendekam di penjara Rusia karena sesuatu hal yang dilakukannya. Keduanya juga terlibat konflik dengan mafia Rusia.
McClane yang bekerja sebagai detektif kepolisian New York City memang diceritakan berjuang melawan sekelompok teroris di setiap seri film tersebut.
'Die Hard' pertama kali dirilis pada 1988. Setelah keberhasilannya, Fox membuat 'Die Hard 2' (1990), 'Die Hard with a Vengeance' (1995) dan 'Live Free or Die Hard' (2007).